Commissioned by Chisenhale Gallery
In Elizabeth II's Golden Jubilee year, Locke's installation was a vast architectural construction that faced head on the traditions and ambiguities of British culture and heritage. Ambitious and complex, the beautiful and the political combined in a series of rooms, galleries and courtyards. Some were akin to museum spaces, some to Victorian merry-go-rounds and fun fairs. We are brought face to face with giant portraits of our ageing Royal Family, images of glamour and power but also of unease, in a series of grottos that seem almost on the verge of collapse.
Eventually the visitor is made aware of the architectural structure that houses all. The cladding that encases the rooms is an intricate cardboard construction that draws on a multitude of architectural reference points, including temples, mosques, Caribbean vernacular and Rajput architecture. Royal mottos and coats of arms jostle with phrases from the Royal Mail such as 'fragile - protect from all elements'. The use of cardboard refers to Locke's investigations into the tension between shell and content, and in the packing and unpacking of cultures, theories, art and the artist himself.
"It is pathetic and sad, but on a glorious scale. It is strong yet full of confusion, chaos and insecurity. It is intimate yet on a grand scale. It is full of contradiction. It has a feeling of elegy or requiem. It is an idea of 'immigrant art'. Not a specific culture yet coming out of the diversity of London, a cardboard culture and an invented culture. It exists in the boundary between the art object and and installation. It is a giant drawing. It is an abandoned fairground...
"...When I was a teenager I planned to become a historian, however, I ended up an artist. It is only natural that my work should have a historical slant and references. What seems difficult for people to realise is that the work is not simply, or mainly a political statement or an illustration of post-colonial ideas. It is about what I am interested in aesthetically and historically. It is not merely educational or designed to get over a political point. Art is emotional, intuitive and mysterious. I'm trying to get at something elusive, possibly unobtainable". - Hew Locke
Click here to view a film tour of The Cardboard Palace (5.50 minutes)
Click here to read review of The Cardboard Palace in Frieze magazine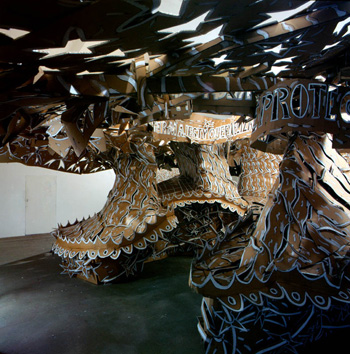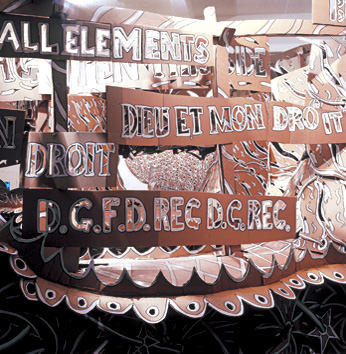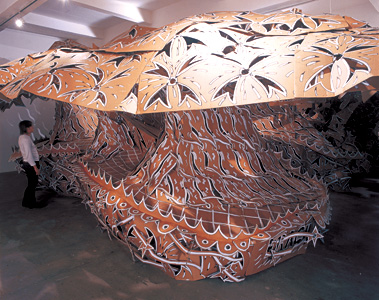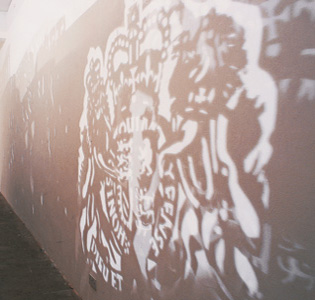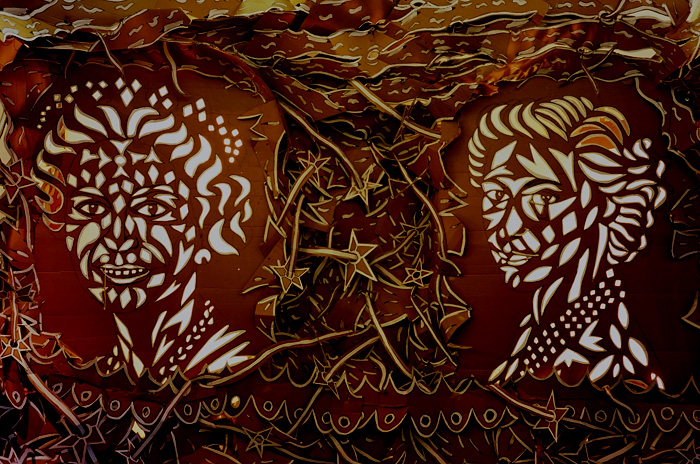 Top left - photo by Indra Khanna, top right and middle -photos by Stephen White, London, all 2002. Bottom - detail of Cardboard Palace, New Art Gallery Walsall version, photo by Jonathan Shaw 2005.