Parian Ware busts, designed to look like the more expensive marble, were objects to be displayed in middle-class homes. Albert Edward was Queen Victoria's eldest son, the future Edward VII, Emperor of India and King of the British Dominions. Princess Alexandra of Denmark was his Queen Consort.
"The busts in this series were originally souvenirs of the Crystal Palace and they are now deeply unfashionable, which I also love. I have deliberately reduced my use of plastic over the past few years and here I have added not only jewels but also military badges and replica medals. There are some from the Benin campaign and the Ugandan and Zulu Wars, and there's even a medal from the second Afghan War of the late 19th century. They are weighed down by the literal burden of history and this goes back to my idea of how a nation creates itself, what stories it sells to itself and how this relates to ideas of Britain and its history that are weighing down the minds of people today..."
Hew Locke interview, The Art Newspaper
"Locke has ornamented these busts with a collage of military medals, metal masks, lace, plant foliage and cowrie shells... The dressing up of these royal rulers in a bizarre regalia is clearly a subversive act, and a refutation of the 'deadness' of history. For Locke, it seems, past and present can share the same space."
Christopher P Jones, RiotMaterial.com
Click here to hear Hew Locke talk about the Souvenir series as part of Race, Empire and the Pre-Raphaelites research group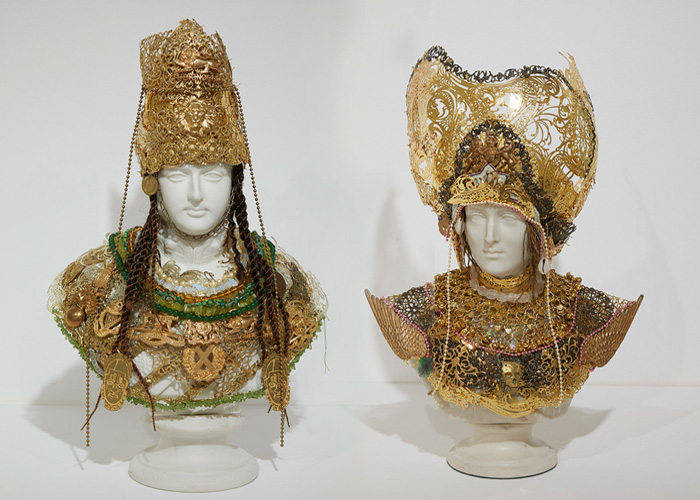 Left, Souvenir 5 (Albert Edward, Prince of Wales), 2019, 49 x 30 x 15cm. Right, Souvenir 6 (Princess Alexandra), 2019, 41 x 25 x 20cms