"The syndicate benefits when I benefit . . . because everybody has a share"
Lieutenant Milo Minderbinder, Catch-22, Joseph Heller, 1961
"What's good for General Motors is good for the country"
attributed to General Motors President Charles Wilson, the US Secretary of Defense, 1953
Share certificates are a window into the history and movement of money, power and ownership. Newborn companies garland their shares with confident typography and classical motifs implying stability and worth. The numerous Egyptian and South African certificates straddling the turn of the twentieth-century indicate where the big money flowed and pooled. The modern market in collectible shares has its own logic, the most successful companies do not command the highest prices, fine engravings are preferred. The cost of old Royal Bank of Scotland shares rocketed after they were bailed out by the British tax-payer in 2008.
His re-workings obscure or highlight information. Figures representative of the local population are seen breaking through. The continuity of ancient and modern trading centres is pointed up. Winners and losers choke and spew up the poisonous riches they have struggled so hard to swallow. Our appetite is whetted to discover more about companies and their relationships - such as the Steel Corporation of Bengal and Tata; Cairo Electric Railways and Heliopolis Palace Hotel; Sinclair Oil and Terror-Free Oil.
This series is also a wry acknowledgement of the commodity value of contemporary art. Now you too can invest in a share of Hew Locke.
See also Song of the South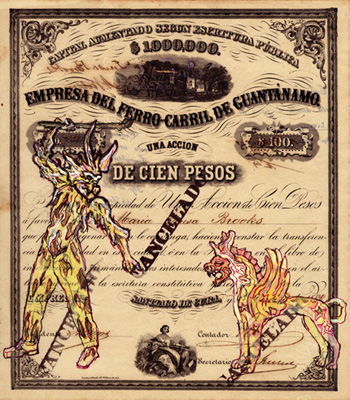 Sinclair Oil, 2009 36 x 25cm. Ferro-Carrill de Guantanamo, 2009 28 x 26cm.