Commissioned by Spike Island and first shown at St. Thomas the Martyr Church, Bristol
"But this three-dimensional treatment of the image also was about the idea of vandalising photography. So you get a photograph, you print it up, you mount it onto aluminium and MDF - you spend a lot of money doing this - and then you take a drill, drill holes into it and drill stuff onto it and just dangle and fix stuff all over it. Itís about attacking the preciousness of the photograph as well as the preciousness of the object that Iím actually proposing to cover.
"So itís got to a stage now where the work has become about several things: itís become about the statue, itís become about covering the statue, but itís also become about the photograph of the statue, covering that, and about the relationship between a flat two-dimensional photograph and a relief fixed onto that photograph. Itís about pushing the boundaries between sculpture and photography and trying to see how the two can mix together, how they fit together and do not fit together. Itís a bit like magnets which repel each other: asking what do you have to do to get this balance where they donít repel each other but they work in harmony?"
- Edited extract of Hew Locke in conversation with Dr. Jon Wood of the†Henry Moore Institute, from Drawing on Sculpture Ė Graphic Interventions on the Photographic Surface, Sculpture Journal volume 15.2, 2006.†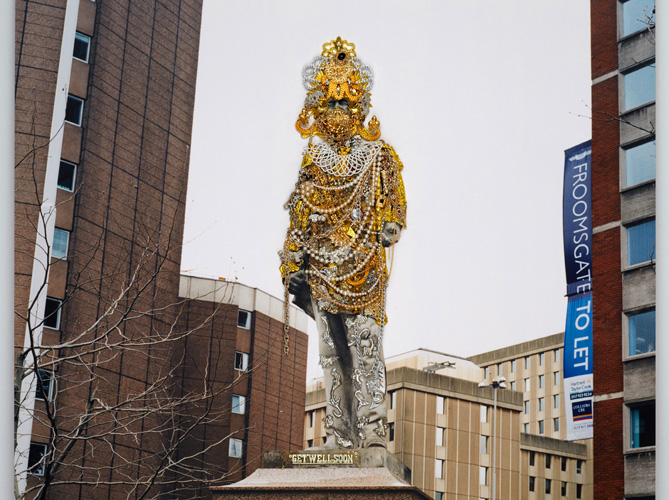 Detail of Morley - Photograph by FXP Photography