A permanent artwork on The Resident Hotel, Carlilse Street, London, commissioned by the Nadler Soho Hotel.
"Selene is named for the Greek goddess of the moon and of magic. I was commissioned to create a sculpture representing Sleep. I wanted to make a classical statue with a contemporary twist, and was keen to create a statue of a black woman, rare in London. The statue is informed by Art Nouveau, Victorian fairy paintings (especially those of Atkinson Grimshaw), and by the sight of a group of tall, glamorous drag queens parading down the road in Soho at three o'clock one afternoon. She is a powerful goddess reworked for today's London - a dream-weaver and magical protector.
"Selene floats at the centre of a galaxy of stars, offering garlands representing magical potions associated with sleep and love. Referencing London's Theatreland, I have included belladonna (a plant proposed as being that creating Juliet's deep-sleep in Romeo and Juliet) and pansies (used as a love potion in A Midsummers Night's Dream). Two different night-blooming flowers known as 'Queen of the Night' - one a type of cactus, the other a type of jasmine - are joined by winged masks of the Greek personification of sleep, Hypnos. She also holds night-blooming dragon fruit flowers, this particular variety is named the 'David Bowie', and references Ziggy Stardust's associations with Soho".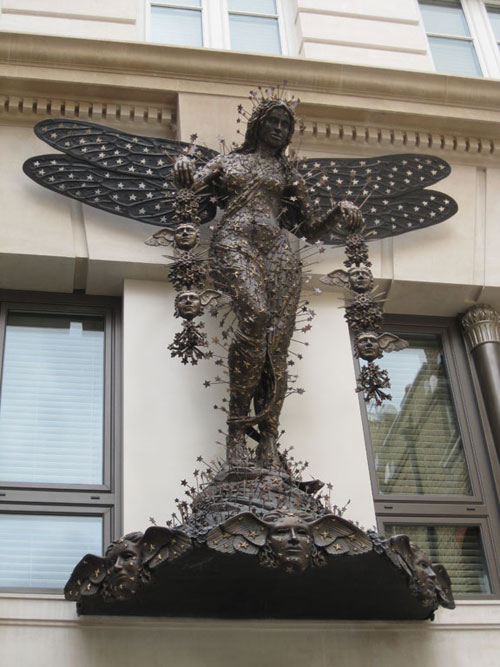 All photos this page © Indra Khanna 2013