Part boat, part package, part city, part animal, part infestation, Hemmed In Two demonstrates the beauty of failure. It is made out of a material that is very useful, an everyday material, a perishable material.
It is a reflection on the global commodification of culture and its history, while the barcodes acknowledge that this piece is itself a commodity which can become cargo or freight as soon as it leaves the studio. At once shambolic and magnificent, with references to baroque, medieval and islamic architecture, Hemmed In Two grew organically in the way of Kurt Schwitter's Merz Barn. The piece is re-configured for each venue.
Literally built onto an original piece titled Hemmed In (1999), Hemmed In Two was developed as an intervention into the fabric of the Victoria and Albert Museum, and references the museums' collection and problematic history. Here, it seems shipwrecked, jammed in the classical columns and unable to progress further than the lobby. The barcodes derive from the museum archive labels accompanying specific objects in the museum such as Meisen figurines depicting the Four Continents, or insignificant-looking objects such as the telescope of Tipu Sultan that was looted from his body.
Hemmed In Two incorporates a piece called Merchandise, which itself incorporates a figure from Raft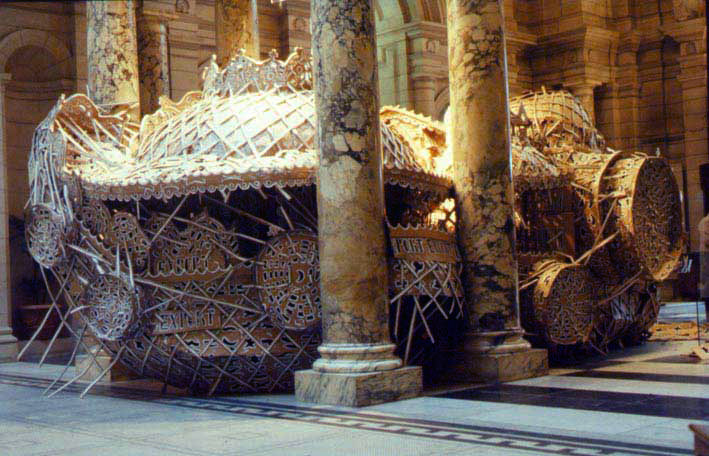 Victoria & Albert Museum version, London, 2000